VASHIVA Millennium Software Productions
VASHIVA Millennium Software Productions is a provider of best in class outsourced products and services to discerning clients both domestic and overseas. Incepted in 1994 with the primary objective of providing software, hardware and telecom support to the emerging and highly demanding electronics communication industry in the US, it has branched into multiple and diverse fields. Today VASHIVA Millennium Software Productions is the preferred off site service provider to companies engaged in Online designing, Website development, Electronic communication and Portal management.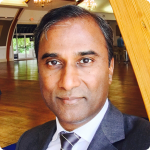 VA Shiva Ayyadurai, Ph.D.
Founder, Systems Health
Chairman & CEO, CytoSolve, Inc.
VA Shiva Ayyadurai, Ph.D., the inventor of email, is a renowned systems scientist and computational systems biologist. He is the Founder of the International Center for Integrative Systems, and the creator of EchoMail and CytoSolve – two large scale enterprise systems for media and medicine, respectively. He is passionate about integrating both Eastern and Western systems of medicine to create a new convergent medicine that is fully consistent with the scientific method. Systems Health ®, created by VA Shiva Ayyadurai, is a revolutionary educational program bridging eastern and western systems of medicine that aims to educate Medical Doctors and healthcare/holistic practitioners in the foundation of systems theory as a basis for all systems of medicine – east and west, scientific and traditional, ancient and modern.
VA Shiva became intrigued with medicine at the age of five, as he observed his grandmother, a farmer and healer in the small village of Muhavur in South India, apply the ancient healing tradition of Siddha to heal and support local villagers. These early experiences drove him to pursue modern Western science and technology and Eastern medicine, with the aim of becoming a scientist and healer.
Over the last three decades, his formal Western research and study has focused on developing new systems for pattern analysis across multiple disciplines. In parallel, he has trained in many Eastern modalities, including various forms of yoga, meditation, nutritional and herbal medicines, learning from esteemed sages and masters in the oral tradition. In 2007, he was awarded a Fulbright Scholarship to study traditional medicines and systems biology. VA Shivaholds four degrees from MIT, including a B.A. in electrical engineering and computer science; and, a dual master's degree in mechanical engineering and visual studies from the MIT Media Laboratory. He completed his Ph.D. in systems biology at the Department of Biological Engineering, where he developed CytoSolve, a scalable computational platform for dynamic integration of molecular pathway models.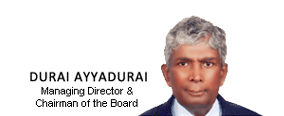 Durai Ayyadurai has more than 35 years experience in management, operations and finance in such companies as Colgate Palmolive, Mennen, Helene Curtis and Parke Davis. He was instrumental in the merger of Mennen with Colgate Palmolive in 1992, which resulted in the sale of Mennen to Colgate. His experience in International operations and management was a key asset in the valuation of Mennen.
As Managing Director and CFO, Durai is responsible for managing MSPI's explosive growth in both Domestic and International markets and implementing industry best practices and processes. Durai is a recognized leader in developing and implementing Total Quality Management (TQM), Manufacturing Resource Planning (MRP), and Just-In-Time (JIT) programs. While serving at Colgate Palmolive, Durai was responsible for developing procedures and implementing top management directives that helped to restructure and reduce work force, resulting in annual savings of $300M to the company. Durai's senior management experience combined with his solid background in industrial engineering and quality assurance position Millennium Software Productions. as the leader in the industry
Mission
Create a more prosperous, productive and caring world, by innovating and delivering software applications, marketing solutions, infrastructure and world class services for Global 2000 and Mid Market Business.